I am currently working on some picture book manuscripts. Stay tuned!
Member of Society Children's Book Writer's and Illustrators.
Member of Children's Book Insider.
Member of The Complete Picture Book Submission System.
Had the honor of working with one of my favorite children's book authors, Tammi Sauer, through Brian Gehrlein's #PB Critique Fest.
I love to participate in writing contests including: PBParty, Vivian Kirkfield's 50 Precious Words, and the Spring Fling Kidlit Contest.
I received an Honorable Mention in the Spring Fling Kidlit Contest for my story, A Noise In The Night.
The darkened forest fills with night sounds.
A sliver of moonlight peeks through the window of our tent.
I squeeze my eyes shut and pull my sleeping bag up under my chin.
A low grumbling sound begins to rattle around inside my ears.
The sound grows louder, picking up speed, rumbling through the tent like a freight train.
I wriggle deeper into my sleeping bag.
What kind of hideous creature could make such an awful noise?!
I flip on my flashlight and sweep it slowly around our tent.
In the beam of light, I can see the beast—his chest rising and falling, nostrils flaring in and out.
The noise crashes against the walls of our tent, but I'm no longer afraid.
It's not a ferocious bear, or a two-headed monster, or a fire-breathing dragon.
It's just my dad. . .the loudest snorer in all of the forest.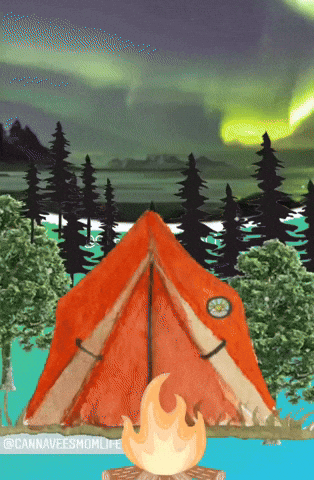 Credit: VeeUtiful via Giphy
For more details of this contest, click here.